A boo-tiful Halloween table can make the blandest of foods or the cheapest of candy taste wonderful. I studied the Internet long and hard to get inspiration and gathered a few of my faves to share. I also have a few pictures of my own Halloween handiwork. Tune back in tomorrow for a Halloween centerpiece how-to.



For the low low price of $15 you could have a Halloween party table that looks chic, full o' polka dots and fabulous courtesy of Anders Ruff Custom Designs.



Oh Torie Jayne your hot pink Halloween makes my heart skip a beat.



Nothing says you only have to decorate your dining room table. Check out this entry way table from Better Homes and Gardens.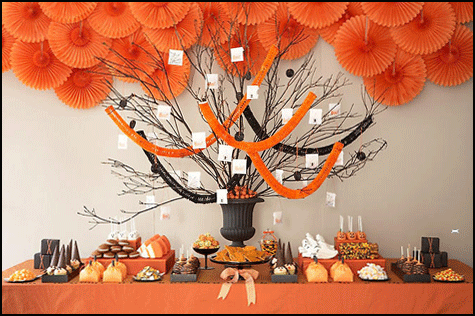 Amy Atlas is a design guru who can give even Martha a run for her money. (image via Pepper Design Blog)



The Glorious Treats blogs had a sweet spread with adorable printables by Tom Kat Studios. Why does everything look cuter with a little label?



Martha, Martha, Martha - can she do no Halloween wrong?



All You Magazine has a crafty cute Halloween table to share (image via Social Couture).



The Ladies Home Journal knew how to throw a heck of a Halloween shin dig back in 1919 (image via Dragonfly Design Studio).



I la la la love vintage paper mache pumpkins. I am lucky enough to have 3 that belonged to my parent's as children. It would be dreamy to have enough to decorate an entire table like Country Living (image via Simply Suzanne).



Last, but not least in my humble opinion, is my own house. I have several different Halloween vignettes set up around the casa.

I'd love to see pictures of your digs or some of your fave Halloween table tops online.

Here are a few more table decorations I made with HGTV in video form to get your creative juices flowing.